Pavement
in
construction
is an outdoor floor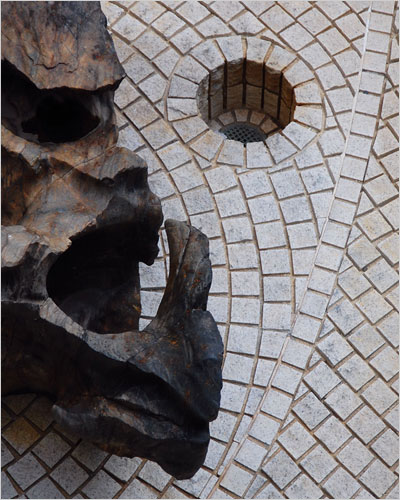 or superficial surface covering. Paving materials include
asphalt
,
concrete
, stone such as
flagstone
,
cobblestone
, and
setts
,
artificial stone
,
bricks
,
tiles
, and sometimes wood. In
landscape architecture
pavements are part of the
hardscape
and are used on
sidewalks
,
road surfaces
,
patios
,
courtyards
, etc.
Pavement comes from Latin pavimentum meaning a floor beaten or rammed down, through Old French pavement.[1] The meaning of a beaten down floor was obsolete before the word became English.[2]
Pavement laid in patterns such as mosaics were commonly used by the Romans.
The largest use of asphalt/bitumen is for mak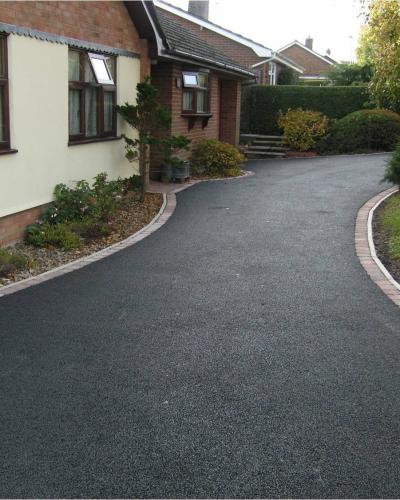 ing
asphalt concrete
for road surfaces and accounts for approximately 85% of the asphalt consumed in the United States. Asphalt concrete pavement mixes are typically composed of 5% asphalt/bitumen cement and 95% aggregates (stone, sand, and gravel). Due to its highly viscous nature, asphalt/bitumen cement must be heated so it can be mixed with the aggregates at the asphalt mixing facility. The temperature required varies depending upon characteristics of the asphalt/bitumen and the aggregates, but
warm-mix asphalt technologies
allow producers to reduce the temperature required. There are about 4,000 asphalt concrete mixing plants in the U.S., and a similar number in Europe.
[63]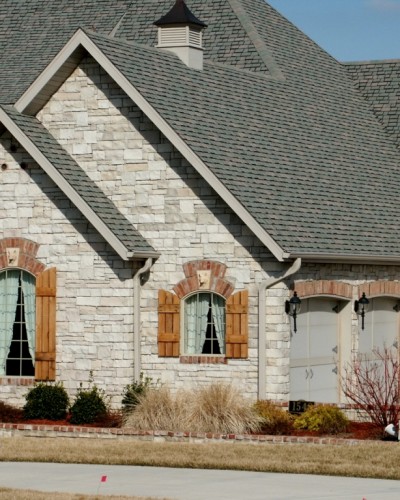 Masonry
is the building of structures from individual units laid in and bound together by
mortar
; the term
masonry
can also refer to the units themselves. The common materials of masonry construction are
brick
, building
stone
such as
marble
,
granite
,
travertine
, and
limestone
,
cast stone
,
concrete block
,
glass
block, and
cob
. Masonry is generally a highly durable form of construction. However, the materials used, the quality of the mortar and workmanship, and the pattern in which the units are assembled can significantly affect the durability of the overall masonry construction. A person who constructs masonry is called a
mason
or
bricklayer
.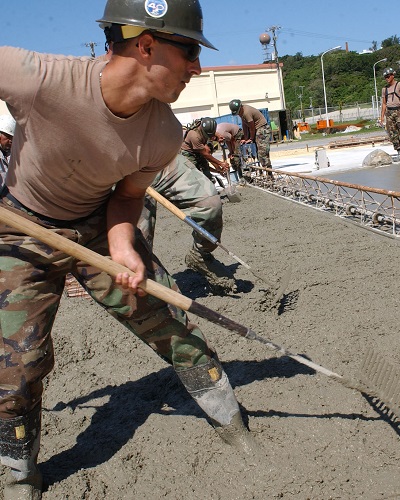 A cement is a binder, a substance that sets and hardens and can bind other materials together. The word "cement" can be traced back to the Roman term opus caementicium, used to describe masonry resembling modern concrete that was made from crushed rock with burnt lime as binder. The volcanic ash and pulverized bricksupplements that were added to the burnt lime, to obtain a hydraulic binder, were later referred to as cementum, cimentum, cäment, and cement.
Cements used in construction can be characterized as being either hydraulic or non-hydraulic, depending upon the ability of the cement to set in the presence of water (seehydraulic and non-hydraulic lime plaster).
Non-hydraulic cement will not set in wet conditions or underwater; rather, it sets as it dries and reacts with carbon dioxide in the air. It can be attacked by some aggressive chemicals after setting.
Hydraulic cements (e.g., Portland cement) set and become adhesive due to a chemical reaction between the dry ingredients and water. The chemical reaction results in mineral hydrates that are not very water-soluble and so are quite durable in water and safe from chemical attack. This allows setting in wet condition or underwater and further protects the hardened material from chemical attack. The chemical process for hydraulic cement found by ancient Romans used volcanic ash (activated aluminium silicates[citation needed]) with lime (calcium oxide).
The most important uses of cement are as a component in the production of mortar in masonry, and of concrete, a combination of cement and an aggregate to form a strong building material.